There's a lot of nice looking stuff that didn't make it into my picks this week. Scroll all the way down to check out some additional great Blu-ray releases like Tarsem Singh's The Immortals, classic '70s film The Deer Hunter, the new remaster of Out of Africa and teen romance flick Like Crazy.
As always, clicking the Blu-ray package art will zip you over to Amazon where every purchase you make through our links helps the site stay on its feet. We appreciate every single click and thank you again for continuing to read The Blu-ray Blog.
---
Blu-ray disc of the week: GAME OF THRONES: THE COMPLETE FIRST SEASON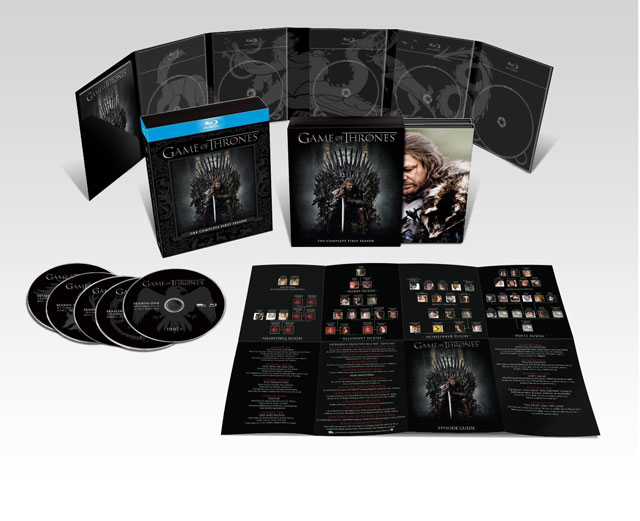 "Summers span decades. Winters can last a lifetime. And the struggle for the Iron Throne has begun. It will stretch from the south, where heat breeds plots, lusts and intrigues; to the vast and savage eastern lands; and all the way to the frozen north, where an 800-foot wall of ice protects the kingdom from the dark forces that lie beyond. Kings and queens, knights and renegades, liars, lords, and honest men…all will play the Game of Thrones. "
What more is there to say about Game of Thrones that hasn't already been obsessively written? HBO crafted the cable television hit of 2011 with their 10-episode adaptation of the first volume in George R.R. Martin's epic series of books and since drawing to a close last spring, tv and genre fans alike have been begging for more. This Blu-ray collection might not provide the fresh hit that the April 1st debut of the series' second season will bring, but watching the episodes over again in high-bandwidth 1080p will certainly invoke a great clamour of glee from many a devotee.

The series looks better than you can possibly imagine on Blu-ray. HBO hasn't let us down yet when it comes to its high-def presentations but their new Game of Thrones boxed set establishes a new high water mark that's going to be tough to beat. This is great looking demo-disc material through and through. The DTS-HD Master Audio 5.1 is equally as awe inspiring, easily as immersive and dynamic as the best that Hollywood delivers on the big screen. HBO has done themselves proud with this presentation. If you're a fan of the show, you're going to want to experience just how much better it can look and sound on these discs.

As much of a selling point as the exceptionally great presentation of the episodes is for me, I have a feeling that the bevy of bonus goodies on this 5-disc set are going to prove the most compelling feature for most. While not a replacement for the new second season episodes they're desperate to watch, fans are going to absolutely lap up the Blu-ray exclusives like the Histories of the Seven Kingdoms and the Maximum-Movie-Mode-style in-episode experience on episode six, "A Golden Crown". The highlight for the most hardcore, however, will no doubt be the George R.R. Martin commentary track on episode 8, "The Pointy End". There's so much to explore here, it really is the most ideal package for fans both casual and hardcore.

Highly recommended.

EXCLUSIVE BLU-RAY FEATURES:
Blu-Ray Complete Guide to Westeros: An interactive compendium of the noble houses and lands featured in Season One, PLUS 24 exclusive histories of the Seven Kingdoms as told by the characters themselves.
Anatomy of an Episode: An in-episode experience that explores the creative minds and colossal efforts behind episode six, "A Golden Crown".
In-Episode Guide: In-feature resource that provides background information about on-screen characters, locations, and relevant histories while each episode plays.
Hidden Dragon Eggs: Find the hidden dragon eggs to uncover even more never-before-seen content.
ALSO INCLUDED:
Making Game of Thrones: An exclusive 30-minute feature including never-before-seen footage from the set and interview from the cast and crew.
Creating the Show Open: An inside look at the creation of the Emmy-winning opening title sequence for Game of Thrones
From the Book to the Screen: Executive producers David Benioff & D.B. Weiss, and author George R.R. Martin talk about the challenge of bringing Martin's epic fantasy novel to life on HBO.
Character Profiles: Profiles of 15 major characters as described by the actors portraying them.
The Night's Watch: An in-depth look at the unique order of men who patrol and protect the Wall, a 700-foot ice structure that separates the Seven Kingdoms from the darkness beyond.
Creating the Dothraki Language: An insightful glance into the comprehensive language created for the Dothraki people in Game of Thrones.
Audio Commentaries: Seven audio commentaries with Cast and Crew including David Benioff, D.B. Weiss, George R.R. Martin, Emilia Clarke, Peter Dinklage, Kit Harington, and more.
---
"The French Riviera…two luminous stars (Grace Kelly, Cary Grant)… and the Master of Suspense, Alfred Hitchcock, behind the camera. They all add up to one romantic, dazzling screen thriller in this first time on Blu-ray edition. Grant plays John Robie, a retired jewel thief once known as "The Cat," who catches the eye of Frances Stevens (Kelly), a pampered, vacationing heiress. But when a new rash of gem thefts occurs amongst the luxury hotels of the spectacular French playground, it appears that "The Cat" is on the prowl once again. Is Robie truly reformed? Or is he deviously using Frances to gain access to the tempting collection of fabulous jewelry belonging to her mother (Jessie Royce Landis)? Romantic sparks fly as the suspense builds in this glittering Hitchcock classic that nabbed an Oscar for Best Cinematography. "
I challenge you to watch Hitchcock's classic To Catch a Thief and not fall in love with it. Perhaps you'll see through the now transparent "twists" in the plot and perhaps you'll find the efforts of police characters to catch the titular thief to be perplexing and fickle. But the dialogue, the chemistry between the ravishing Kelly and debonaire Grant, the gorgeous south-of-France locations, combined with the playful wink-and-nudge tone that the Master so effortlessly delivers are the very things that make films great. I don't really hesitate to say that to not find something to love here is to not love the medium. Translated: You suck if you hate To Catch a Thief. It's not a perfect film but it's one of Hitchcock's absolute best.

If I had to speculate, I'd say that the transfer on this disc isn't a brand new one. Luckily for us, though, it's pretty great to look at! There doesn't seem to be as much grain as you'd expect from a film of this vintage and perhaps some of the colours are just a bit off but I can easily say that To Catch a Thief has never looked better on home video. Wait'll you see the detail in this presentation of the film. Fans familiar with its every nook and cranny, every detail and nuance are going to be over the moon with what Paramount has delivered here. Audio is presented in a wide Dolby TrueHD 2.0 and the original mono flavour, also in Dolby TrueHD.

Outside of the exceptional film itself, fans will be most delighted to dive into the treasure trove of special features on the disc, all of which have been ported over from the 2009 Centennial Collection release. The only lengthy extra is the feature length commentary by Hitchcock Film Historian Drew Casper, who makes good on his promise to feed your brain with more factoids and anecdotes that you'll ever be able to recall but, sadly, does so in the driest of manners. Somebody get that man a coffee! The bulk of the remaining goodies are short featurettes (listed below), galleries (also listed below) and the film's trailer.

Very highly recommended!

Special Features:
Commentary by Dr. Drew Casper, Hitchcock Film Historian
A Night with the Hitchcocks
Unacceptable Under the Code: Film Censorship in America
Writing and Casting To Catch A Thief
The Making of To Catch A Thief
Behind the Gates: Cary Grant and Grace Kelly
Alfred Hitchcock and To Catch A Thief: An Appreciation
Edith Head: The Paramount Years
If You Love To Catch A Thief, You'll Love this Interactive Travelogue
Theatrical Trailer
Galleries:

Movie
Publicity
Visitors to the Set
Production
---
"Dr. Robert Ledgard (Antonio Banderas) is a driven plastic surgeon haunted by personal tragedies. After many years of trial and error, he finally perfects a new skin – a shield which could have prevented the death of his wife in an accident years earlier. His latest "guinea pig" is a mysterious captive whose true identity masks a shocking mystery. The Skin I Live In is a masterful tale of secrets, obsession and revenge from Oscar-winning (Best Writing, Original Screenplay, Talk to Her, 2002) writer/director Pedro Almodovar. "
If it's Almodovar, I'll watch it. Hell, I'll blind buy it! And that's my plan with The Skin I Live In Blu-ray disc. Simply can't wait to watch it! I don't need to have seen this one to know how incredible it is. I didn't receive a screener but it's from Sony, so you've got a guarantee of exceptional visuals and audio. This is at the top of my list of currently available Blu-ray discs that I need to purchase.
---
MONTY PYTHON AND THE HOLY GRAIL
"The Monty Python team are at it again in their second movie. This time we follow King Arthur and his knights in their search for the Holy Grail. This isn't your average medieval knights and horses story – for a start, due to a shortage in the kingdom, all the horses have been replaced by servants clopping coconuts together! "
I don't think I've been shocked or taken aback by Monty Python and the Holy Grail for about 30-years now. I've seen the film so many times that I'm almost immune to all the gags. It doesn't mean I like them less. I just see them coming a mile away. Yes, I'm one of those guys who can endlessly quote the film (though, I choose not to, for the sake of the sanity of my friends and family.) I think I know every frame of that film as well as I possibly could, without having authored it. Until this week I was certain that there was nothing more to be taken from a viewing of the film. That all changed when I popped in the new Blu-ray. Ho-lee-crap. This is stunning work.

Grover Crisp's team of capturing, authoring and encoding geniuses over at Sony have worked magic on this tired, old, low-budget film and turned out a Blu-ray that will exceed every fan expectation of what Monty Python and the Holy Grail can look and sound like on home video. This is absolutely stunning work. No, the film doesn't look glossy or Hollywood-perfect now but the presentation on this disc looks as much like the film as I'm certain any home video format can. I'm in awe of the detail and depth that Sony were able to wring from the original elements they used for this transfer. If you had any doubts about upgrading your old DVD, allow this review to allay them. This is a worthy upgrade, if ever I've seen one. The lossless DTS-HD Master Audio 5.1 track is nearly as impressive but, again, won't offer anywhere near as immersive or dynamic an experience as modern work will. Still, fans will notice the upgrade to lossless.

Not satisfied with providing an absolutely stellar transfer for the film, Sony also crams the Blu-ray disc full of special features, most of which are carried over from their previously released DVD, including the Criterion-Laserdisc-sourced Terry Gilliam and Terry Jones director's commentary as well as a second commentary with Eric Idle, John Cleese and Michael Palin. The new exclusive features include 18-minutes of must-see deleted scenes and outtakes, almost 13-minutes of "lost" animation by Gilliam and the ability to sync up to the Second Screen app on the iPad.

Unlike Disney's free-to-download Second Screen experience, you've got to plunk down $4.99 to check out the Holy Grail on your mobile device. I bit the bullet and can tell you that the app syncs easily to the Blu-ray, allowing full control of the disc from your iPad. It's a pretty great experience but ultimately seems to be simply repurposing and reorganizing the same special features on the disc or presenting the extras from the DVD that weren't carried over to the new Blu. It's well done and offers a new way to experiece the film and for that reason I'd recommend it. But only for hardcore fans or for those who haven't just shelled out for the disc. If the app ever drops in price, or hits the zero-dollar price point, I'd say jump on it.

Blu-ray Exclusive:
The Film re-mastered to high definition standards never before seen
The Holy Book of Days Second Screen Experience
Lost Animations with introduction by Terry Gilliam
Outtakes & Extended Scenes with introduction by Terry Jones
Blu-ray Features:
Scintillating commentaries by Terry Gilliam & Terry Jones and even more revealing commentaries by John Cleese, Eric Idle & Michael Palin
Quest for the Holy Grail Locations with Michael Palin & Terry Jones
Lego Knights: The Knights of the Round Table in Lego
Special Japanese Version
How To Use Your Coconuts (an educational film)
BBC Film Night on location
Three Songs to sing-along
Cast Directory Photo Gallery
---
TRANSFORMERS PRIME: SEASON ONE
""Transformers Prime" deepens the epic mythology of both the Autobots and Decepticons, while starting fresh for a new generation of fans. Optimus Prime, Bumblebee, Arcee, Ratchet, Bulkhead, and many others are back to "roll out" against Megatron's latest attempt to conquer Earth. And Megatron proves to be more powerful than ever, having acquired a rare element that allows him mastery over life itself. "Team Prime" may be few against the Decepticon hordes, but they find increased strength via bonds forged with three human teenagers. Make no mistake, "Transformers Prime" delivers heavy metal action, and nail-biting suspense – but it also takes the human drama to levels as yet unseen by the franchise."
Toymaker Hasbro and their animation partners re-imagine their iconic robotic universe yet again in the new all CGI-animated series Transformers Prime. The complete first season is now collected in a 4-disc Blu-ray set from Shout! Factory.

READ MORE: Transformers Prime: Season One Blu-ray Disc Review
---
"The 1984 classic is now the modern hit that will make you stand up and cheer! Big city teen Ren McCormack (Kenny Wormald) moves to a quiet little town and discovers that the hard-line minister has outlawed loud music and dancing. But everything changes when Ren decides to challenge the ban, revitalizing the town and falling in love with the minister's rebellious daughter Ariel (Julianne Hough). Critics and audiences agree "'Footloose' has an infectious spirit" (Alynda Wheat, People) so get ready to cut loose."
It's not that I'm a big Kevin Bacon or Lori Singer fan or anything but I think the only reason I didn't love this new version of Footloose was because I just couldn't get into the two young leads, Kenny Wormald and Dancing With The Stars alum, Julianne Hough. There's a charm to Bacon and Singer's performances in the original film that, for me, is just missing here. Both Wormald and Hough seem too world weary and grown up to be naive school kids and that removes a lot of the magic in the storytelling. On the other hand, the supporting cast is exceptional, the photography makes the original look as if it was shot by students and the dance numbers, while clearly inspired by the original, are visceral and exciting. This is more or less a note-for-note remake of Footloose. If you haven't seen the original, this will no doubt prove a fun evening's entertainment. But if you've got a special place in your heart for the original, you're likely to find the flat lead performances distracting enough to eclipse the value of this mostly-able remake.

On the other hand, this Blu-ray disc is a technical powerhouse! Paramount has pulled out all the stops for this bright, vivid, detailed transfer and encode. The new version of Footloose looks stunning in 1080p. The DTS-HD Master Audio 5.1 track is equally as impressive, as it should be with the iconic soundtrack an integral part of the package. Fans won't be disappointed. I encourage you to crank this one up. It sounds great!

There are a decent amount of special features here but I think my lack of interest in the film is colouring my take on them. I think I would be a lot more enthusiastic about this package if I had loved the movie. As it stands, I can't really get into listening to all of director Craig Bower commentary track. It seems off the top to be relatively passionate and informative. I just have trouble caring enough. The roughly 45-minutes minutes worth of featurettes provide a deeper look into the making of the film, focusing on its re-imagining, its stars and its many dance numbers. The disc is rounded out with 7-minutes worth of deleted scenes, music videos, a Footloose rap, and a DVD and Digital Copy of the film.
---
Only in Canada: REYKJAVIK TO ROTTERDAM


"Christopher (Baltasar Kormákur) is like fish on dry land after being fired from a freight liner. He doesn't stand much chance of being rehired, having been caught in the act of illegal alcohol trafficking. Because of the high price of alcohol in Iceland, Christopher and his mates simply couldn't resist earning an extra buck by smuggling some vodka each time they sailed in. Faced with serious money problems, Christopher manages with the help of a friend (Ingvar Sigurdsson), to get his old job back. He is tempted to do one last gig, determined to get all his problems behind him, once and for all."
Once again, we here in Canada have rolled the dice and come up lucky. Very lucky indeed. For eOne has done us the gracious favour of making the 2008 Icelandic hit Reykjavik to Rotterdam available on Blu-ray. The timing is near perfect for this release as the American remake, entitled Contraband and directed by the star of the orginal, Kormákur, is due to hit Blu in just over a month's time from Universal. Though I didn't see the remake, I understand it didn't fair too well with critics, the terms "mediocre" and "cliche" coming up a lot in reviews of the film. I took a look at the plot breakdown and it seems, for all intents and purposes to be the same as Reykjavik to Rotterdam. Now, I don't know if I would love Contraband, despite the consensus of feeling toward it, but I thought Reykjavik to Rotterdam was an exceptional, cracking good thriller.

Clearly, Iceland feels the same way about the film as it was that country's official submission for the 82nd Academy Awards for Best Foreign Language Film. It wasn't nominated, and I'm not sure it deserves to be, but it's certainly a taught, well crafted 88-minutes of drug-and-booze-smuggling thriller. The performances are top notch and combine with a great score by Barði Jóhannsson and Icelandic and Netherlands location photography by Bergsteinn Björgúlfsson to elevate the narrative beyond the tired gangs and smuggling tropes prevalent in North American films. My guess is that talent, a little style and European locations go a long way to making any film compelling.

Reykjavik to Rotterdam looks all right on Blu-ray. It didn't blow me away but the mostly dark and colour-drained 35mm images appear film-like throughout this single-layer presentation. It's solid enough and, I imagine, fairly faithful to the source but can't stand against the brightest Hollywood fare. The Icelandic-language DTS-HD Master Audio 5.1 track, on the other hand, is dynamic, immersive and engaging from beginning to end. There's also a French language dub of the film, presented in DTS-HD Master Audio 5.1. Subs are available in English and English SDH only.

Sadly, the there are no special features on the Reykjavik to Rotterdam Blu-ray disc.

AMAZON: CDN$ 33.49
---
ALSO AVAILABLE ON BLU-RAY THIS WEEK
Clicking an image will take you to Amazon.com where you can learn more about and purchase the Blu-ray disc:



---
Read More