I'm kind of desperate to rush out and grab up my number one pick this week. It's such a profound favourite of mine that I can barely think about any of these other titles as a result. Ah hell, let's just dive right in…
---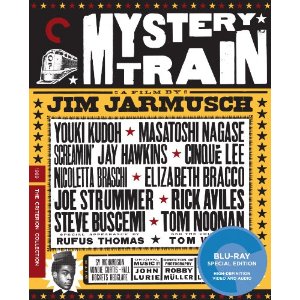 I know full well that Mystery Train is far from Jim Jarmusch's best film. But it's the one that I happen to like best. Maybe it's because my initial viewing of it was at a very pivotal time for me and my appreciation of film. Or maybe it's just because it was my first exposure to his work. But Jarmusch's filmmaking just captured me here. It spoke to me and spoke to the potential of the medium as I understood it. Before Mystery Train, I wasn't aware that you could tell more than one story in a film!
This is anthology filmmaking at its best, as far as I'm concerned. Three tales, each focusing on a collection of outsiders as they converge and spiral through the city of Memphis, with the spirit of "The King" always lingering just off screen. The town is lonely and dark, the music timeless (Elvis Presley, Otis Redding, Roy Orbison, etc.) and the performances outstanding across the board. I can't wait to check out what Criterion have done with this film on Blu-ray. Here's a list of special features from their site:
DIRECTOR–APPROVED SPECIAL EDITION
New, restored high-definition digital transfer, supervised and approved by director Jim Jarmusch (with uncompressed monaural soundtrack on the Blu-ray edition)
Q&A with Jarmusch in which he responds to questions sent in by fans
Excerpts from the 2001 documentary Screamin' Jay Hawkins: I Put a Spell on Me
Original documentary on the film's locations and the rich social and musical history of Memphis
On-set photos by Masayoshi Sukita and behind-the-scenes photos
New and improved English subtitle translation

PLUS

: A booklet featuring essays by writers Dennis Lim and Peter Guralnick
Read more: Criterion Announces June Blu-ray Titles: Visconti's The Leopard, Antonioni's Red Desert, Jarmusch's Mystery Train
---
I think I can safely say that I enjoyed The Book of Eli a lot more than I was expecting to. It's a lot of what's good about the best spaghetti westerns multiplied by a healthy dose of Mad Max – a moral man who just happens to be a bad-ass, making his way across a post apocalyptic wasteland. Films like this always force the protagonist, whether Max, Clint or, in this case, Eli as portrayed by Denzel Washington, to protect or fight for a MacGuffin ("a plot element that catches the viewers' attention or drives the plot of a work of fiction.") And, as I'm sure you can guess, Eli's all about his book. The Blu-ray looks and sounds just short of perfect, with stylish photography and very effective, moody music. Not too shabby.
Full review later in the week.
---
You'll never believe me when I tell you this. I haven't seen a single one of these films yet. I've never seen either of the Vengeance films (Sympathy for Lady Vengeance or Sympathy for Mr. Vengeance) or the very famous and apparently incredible Oldboy. None of them. I was really hoping Palisades Tartan would get me a review set of discs here but no luck. I have a feeling, however, that when I finally pick these discs up, I'm going to love these films. My girlfriend places Oldboy on a list of three films I've yet to see that she's certain I'll love (the other two being Cinema Paradiso and Stardust.) Have you grabbed up this disc set? Is it as awesome as I'm assuming it is?
---
4. FLASH GORDON
I'm not going to write out the lyrics to the Queen theme song here. Much as it feels like a natural impulse to do so when addressing this film. The infamous 80s adaptation of Flash Gordon seems to have gone down in trash cinema history as a result of having a truly incredible, truly camp soundtrack that has stood the test of time. And for that reason alone, for the opportunity of hearing Freddie Mercury blasting through your speakers in lossless audio, I'm recommending this new Blu-ray disc. It's a vast improvement over the DVD in the audio department and manages to look a whole hell of a lot better at the same time. Sadly, the effects are still crap and the production design, the height of cheese. Hail Ming!
---
Loathe as I am to feed into the current Michael Cera infatuation at hand, I'm placing Youth in Revolt in the number five slot this week, if for no other reason than if you see the film, you'll have the singular pleasure of enjoying the actor playing his character Nick's moustachioed, douchebag alter-ego, François Dillinger. Which is something slightly different for the previously one-note performer. Those not tired of his typical shy nerd-schtick can catch up with Cera this summer in the adaptation of the popular Scott Pilgrim comics, where he'll be combining his geek powers with all-out, video-game-style action sequences.
---
ALSO AVAILABLE ON BLU-RAY THIS WEEK
Clicking an image will take you to Amazon.com where you can learn more about and purchase the Blu-ray disc:
---
Read More